I've spent almost an entire decade optimizing eCommerce sites to compete against Amazon and other large online retailers, and I cannot tell you how gratifying it is to see a mid-tier shopping site outrank a large retailer, or at very least, grow traffic and revenue month-over-month. This does not happen quickly, but it instead happens slowly, steadily…and consistently.
The advantage that mid-sized eCommerce sites have over the competition is that they are (often) more nimble and can move budget around to shift their strategy when they see an opportunity to exploit the weakness of larger competitors. If you run a mid-market eCommerce SEO site and are struggling with SEO, then use these eCommerce SEO Tips to start growing your organic search traffic and revenue.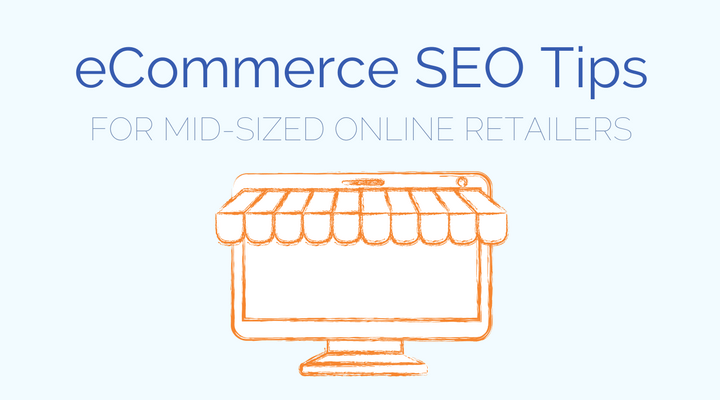 eCommerce SEO Tips at a Glance
In this article, I cover the following specific eCommerce SEO tips to help mid-sized eCommerce sites optimize for search engines and users, and better compete against the big box online retailers.
Improve product page indexation in search engines

Remove "zero traffic" product pages from search engine indexes
Improve your top product pages
Improve remaining product pages

Refine your index in search engines
Optimize category pages

Add unique, optimized content atop product grids
Curate recommended products below product grids

Create curated "buying guides" that target keywords
Publish articles (targeting keywords) that help people choose products
Ready? Let's dive in!
Improve Product Page Indexation
Product pages typically have the highest conversion rates and are "where the money is" in eCommerce. If you are using the same descriptions as other websites (especially competitors), you're severely limiting your product pages' value to search engine indexes. If you have thin/short product descriptions, you're likely hurting your overall site quality depiction with Google.
Remove Product Pages with ZERO Search Traffic from Google's Index
You heard me. Identify the product pages that do not drive organic search traffic and remove them from Google's index. You should absolutely still keep them on your website, but simply add a "noindex,follow" meta robots tag to the <head> of all product pages that did not drive a single organic search traffic visit in the past three, six, nine or twelve months (your choice…consider seasonality).
Get rid of the cruft. These products are not "working" for your site. They are potentially dragging down your overall site quality in the eyes of Google. By removing them from Google's index, you are likely removing a bunch of low-quality content (and inversely increasing your ratio of high-quality content) in Google's index. You can always release these product pages back into search engine indexes when you've had a chance to review and improve them.
Still feel uneasy about this? Read this Moz article, which references a case study for a client account that I directed the SEO strategy for while at Inflow, before starting my own consulting practice. We pruned 50% of a mid-sized eCommerce client's product pages and increased organic search traffic by 28% in a relatively short period of time. Results don't always happen this quickly, but they can.
Improve Your Top Product Pages
Focus on the 80/20 rule here. It's highly likely that 20% of your product pages (your "input") is driving 80% of the results (your "revenue").
Your top product pages are likely driving the majority of your revenue, so ensure they are 100% unique. That's not enough, however. You also need to put your stamp on what makes these products worthy of someone's hard-earned dollars…and worthy of being purchased from your brand.
You don't offer Amazon Prime. You don't offer a one-year guarantee. What you do offer is a unique perspective and expert insight into these products that you hand-picked for your store since you're an expert in your field. People will buy from you if they trust you, and sharing your detailed insight on these products is what will set you apart from the big box e-tailers.
This action will provide you with an offensive attack to start improving your organic search traffic for the highest-dollar-generating pages on your site. Get started now.
Plan to Improve Remaining Product Pages
You'll likely be left with a large portion (perhaps 40-75%) of your product inventory, which drive enough organic search traffic (and revenue) that you need to keep them indexed in search engines, but you still need to review and improve them.
This is where you need to create some long-term plans. Determine how long it will take you to improve and rewrite these product pages and price it out. What's realistic? It's perfectly okay if this project takes you upwards of 1-2 years. Your organic search traffic will be growing well before then and the continued efforts will help to fuel future growth.
Based on your experience with improving your top product pages (as recommended above), you'll know whether you can handle this in-house, or whether you need to outsource some of the efforts. If you outsource (with someone like me, perhaps?), stay involved. Remember…you're the expert (or your staff is). When working with a copywriting agency, you need to ensure that your company shares key insight about each product with the copywriters. This way, your expert insight can be incorporated while the copywriters also focus on making your product descriptions unique and compelling.
Remember…you're the expert (or your staff is). When working with a copywriting agency, for example, you need to ensure that your company shares key insight about each product with the copywriters. This way, your expert insight can be incorporated while the copywriters also focus on making your product descriptions unique and compelling.
Refine Your Index
I've watched Google's algorithm updates focus more and more on overall site quality over the past 5 years. From Panda to the first Phantom update, we're seeing Google reward sites that provide overall good experiences for its search users and demote sites that don't. For this reason, it's critical to ensure that you only allow Google to index quality content on your site. That means that page types such as the following should be removed from (or prevented from entering) Google's index either via meta robots tags, rel=nofollow, robots.txt rules, or deleting and redirecting the pages to higher quality (and topically related) pages:
Filter/facet URLs
Internal search results pages
Category pages with few products
Short blog posts about uninteresting topics for the shopper
Any sort of "tag" pages that have no unique content
Random blank pages
…etc.
Optimize Category Pages
Category pages generally target topics that have higher search volume than product pages, however, these topics are also more competitive. It's often easier for a mid-tier eCommerce site to rank its product page on page 1 of Google for the specific product name as opposed to ranking a category page for the general topic that it targets (i.e. – office desks, guitar amps, laptop computers, etc.). There's simply less competition.
Here's a specific example. Pro Guitar Shop (my favorite online guitar shop!) has an excellent product page for the Rockett Archer Ikon guitar pedal, which is a "clone" of the famed Klon Centaur overdrive pedal. They rank in the top few spots for the product name because they have excellent (and mostly unique) product page copy and user reviews.
They are nowhere to be found at the top of the page when searching for "overdrive pedals," which is the topic of their category page that would list this particular pedal amongst over overdrive pedals. Guitar Center, a big box eCommerce competitor, ranks in the top organic spot (just below the rich snippet / position zero).
Add Unique Content Atop Product Grids
The first thing that a mid-tier eCommerce site can do for optimizing category pages, beyond the obvious metadata and H1 title optimization techniques, is to add at least 50 words of unique content above the product grid that describes the types of products sold in each category. Link directly to some of the top-selling products and related sub-categories as well.
Curate Recommended Products Below Product Grids
The bottom of a product grid is an often-forgotten area for optimization. If an online shopper gets to the bottom of a category page, then she/he has still likely not found the right product. This is where you can add more value to the shopper (and search engines!) on the page by curating some of the best-selling products or recommending products for specific applications.
A well-formatted section, consisting of 200-300 words of product curation, at the bottom of the product grid can go a long way towards improving conversions and adding more value to the page for online shoppers…which Google will eventually notice and likely reward you with improved rankings due to improved engagement, more contextual value, additional long-tail keyword relevancy, etc.
Here is a great example of an air conditioners category page from Total Home Supply, an Inflow client that I've assisted with.
Create Curated Buying Guides
Your customers' challenge is finding the best product for her/his needs. Your website needs to make that easier on potential customers and creating "buying guides" (to curate products) can provide an excellent way to do this.
Although not a mid-sized eCommerce site, I've always been impressed with REI's commitment to curating products for specific activities that their target audience is interested in. Take a look. It's rather impressive. There's a lot that can be learned from them.
This type of content allows a brand to offer niche advice, curate top brands and make specific product recommendations that can lead to sales. Here's one example targeting "how to choose a backpack."
Check out the search volume and ranking for this topic.
Search Volume (Moz Keyword Explorer)
Google Ranking
Sure, REI is a big box eCommerce site, but mid-market eCommerce sites can do the same. Maybe not as much and as fast, but what you do…you can do it with your own unique perspective, which is exactly what customers (and search engines) value. In my next tip, we'll take a look at how a particular mid-market eCommerce site is totally crushing it with product and advice curation.
Publish Articles that Help People Solve Problems With Your Products
A few years back, I was researching how to build a home studio, and specifically how to soundproof my music room. During my research, I continuously came across the website for Trademark Soundproofing. They had articles about every question I had, such as, "How to soundproof a door?"
Search Volume (Moz Keyword Explorer)
Google Ranking
Note: I tried my darndest to give this company my business, but their customer service was downright awful. In fact, I called them to place a multi-thousand-dollar order, but they weren't taking orders for 1-2 weeks at the time. Had they been ready to take my order and ship out my purchased supplies, they would have gotten the business. 
Regardless, this is how eCommerce sites do content marketing. Target keywords that represent the questions and needs of your potential customers, and create amazingly helpful content that educates them and curates recommended products along the way. You will build trust with visitors, attract links and have something share-worthy for your social media profiles.
What Matters is Effort & Production
Your challenge is finding time to put in the effort, and ensuring that there is effective output from those efforts. Simply thinking about these eCommerce SEO tips won't positively impact your traffic and revenue. Take action and meet internally (with your team) to determine who has the expertise to handle certain aspects of your optimization plan. If you don't have the expertise in-house, hire someone like me. Review my eCommerce SEO services to see how I might be able to help you better compete with the big box online retailers.